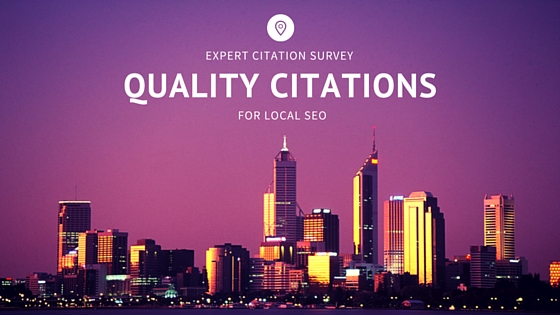 The importance of quality citations for local seo
A recent survey amongst industry experts suggests most agree that quality citations plays a large role in generating rankings for local seo.
Back in April, BrightLocal released their Expert Local Citation Survey 2016. With the help of 21 local seo experts, they have discovered how relevant citations really are in 2016, the importance for local businesses and the current best practices for building citations and eliminating errors.
So before we take a look at some of the results from the survey, let's go way back and look at why citations are required to begin with.
Released on July 24, 2014 the Google local search algorithm update was dubbed the "Google Pigeon" by Search Engine Land for future reference. The purpose of this algorithm is to provide a more robust, relevant and accurate local search result.
Google has stated the new local search algorithm ties deeper into their web search capabilities, including the hundreds of ranking factors they use.
And so now, industry experts believe
External Location Signals make up 13.6% of the overall ranking factors which include IYP/aggregator NAP consistency, citation volume etc.
The citations that make up these external location signals define your business name and address on other webpages- even when there is no link back to your site. Simply put, other websites like Yellow pages or local business chambers that contain your business Name, Address and Phone (NAP) details is a key component of the local ranking algorithm for Google.
And this is where Pigeon comes into play.
To improve the quality of its local search results, Google is relying on factors such as location and distance to provide better results to the search user.
Searching Google and searching Maps has before the update provided very different results to users, and now since the update, the algorithm connects web search and map search in a far more cohesive way.
Key Takeaways From BrightLocal's Expert Citation Survey 2106.
So how relevant are citations anyway?
Well according to the panel;
90% of them say accurate citations are critical or very important to local search rankings.
86% say quality of those citations is more important than the quantity.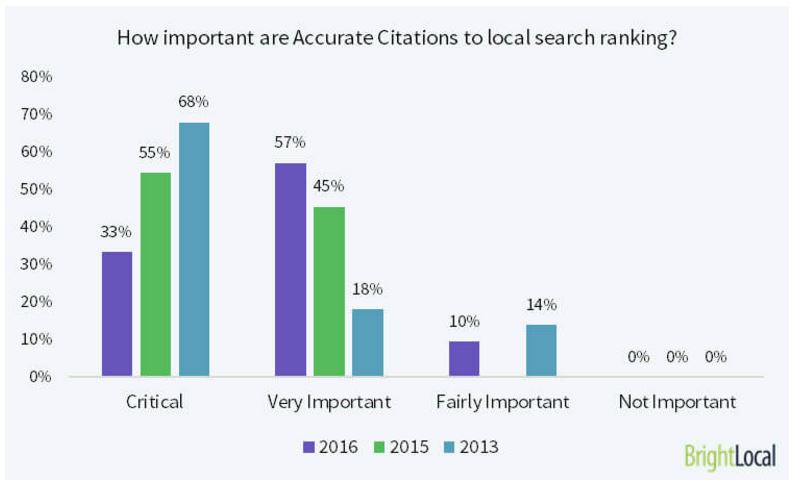 "Having accurate citations for a business is par for the course. Regardless if a brand has 10 or 10,000 locations, the local listings need to be accurate and monitored ongoing for discrepancies, ensuring users are able to successfully contact and visit the business". – Nick Neels, Location3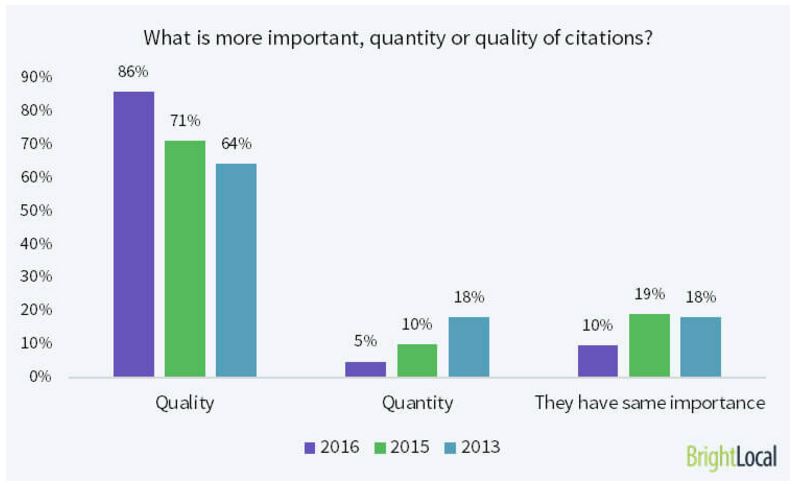 Year on year there has been a significant shift towards building quality citations. By Quality, that means citations built on sites that are highly relevant to your business and/or have a high domain authority. Examples of such sites will be Yelp and Foursquare.
"Look at your competitors who are doing the least work with citations and yet getting great results. Try to get the same citations they have because they are doing the least amount of work and getting the best results as opposed to looking at the competitor who has 100's of citations. I bet the competitor who has fewer has the 'right' citations. Remember it's not the quantity of citations that wins, but the quality of those citations." – Matthew Hunt, Powered By Search.
When asked "Are citations more or less important now than 12 months ago?" the responses were:
10% believe citations are more important
19% believe citations are less important
71% believe they have similar importance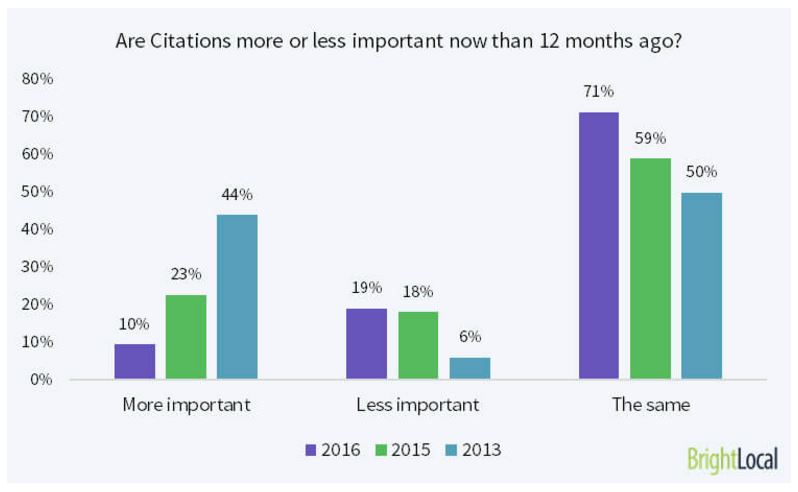 So from this BrightLocal has analysed a steady decline in the perceived importance of citations, and has put this down to Google's investment in building up its own local data set to a point where it can trust its own data more & more.
Where Google is required to confirm the data it holds, they look to specific high authoritative sites like Yelp, Yellow Pages & Foursquare, whilst paying less attention to the data held on small low authoritative (low quality) sites.
So I guess we can look at this as Google is becoming increasingly better at determining the relevance of your citations and that spamming the web with tonnes of citations will most likely hurt your local rankings.
For the purpose of achieving local map rankings for our clients, the approach we now use is to determine what competitor is doing the best job with the least amount of citations, then we determine what they are and go after those first.
"My opinion on citations hasn't changed for the past few years. They are important, but they are only a small piece of the puzzle and I think the local community focuses too much on them. Get the Aggregators right and directories that bring your business and rank on industry search phrases and spend the rest of your time elsewhere… probably link building" – Mike Ramsey, Nifty Marketing
What sites offer the best authority for structured citations?
Key Findings:
33% say that Niche/Industry Directories have greatest authority (vs 32% in 2015)
19% say Local Directories have greatest authority (vs 9% in 2015)
24% say that all types of sites carry the same authority (vs 9% in 2015)
Structured citations are submissions of your business listing with a clearly defined presentation of your NAP details. These sites will use schema mark-up to allow the search engines to accurately determine the data.
Whilst Niche / Industry Directories offer the greatest authority for structured citations, the rating for Local Directories has jumped up since 2015.
Click here to find out more stats from BrightLocal's Expert Local Citation Survey 2016.
To conclude, my thoughts are just like building backlinks for domain authority, your much better off analysing your top online competitors in your market, identifying the top authoritative citations and start by replicating those. Take the guess work out and leverage what others are using to win the game of local SEO.
Quality Citations For Local SEO | Expert Citation Survey was first published to http://resilientdigital.com.au